The AOne Zigbee Double Socket is a fully-featured Zigbee double socket for the UK market. Power monitoring is the key feature, but will the AOne socket shine, or will it fizzle out?
I recently reviewed the ClickSmart+ ZigBee double socket, but not content, I kept searching for other options for the UK market. I wasn't disappointed! I came across the AOne ZigBee 13amp double UK socket, aside from having adjustable LED brightness, has individual socket power monitoring!
Power monitoring, especially given the recent jump in UK energy prices is a pretty big deal, but will the AOne socket shine in comparison to the ClickSmart+, or will it fizzle out? Read on to find out...
AOne ZigBee Smart Double Socket
The AOne Smart Double socket is a 13amp, 2 gang ZigBee UK socket from Aurora Ltd. While Aurora's market was historically lighting, they have embraced ZigBee under their AOne brand. There's only one finish/colour available—the white plastic you see pictured here. For the avoidance of doubt: I purchased this unit myself.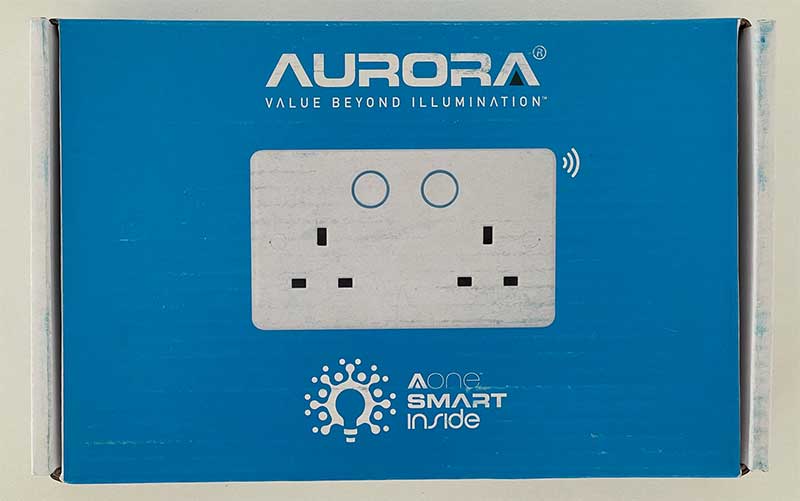 Features
2 gang 13A (3KW load) rated UK smart socket
Power buttons with LED on/off indicator
Independent ZigBee control of both sockets
Generic Zigbee gateway, AOne Smart Hub or Samsung SmartThings
Brightness control of power status LEDs
Ideally needs a 35mm backbox, but comes with a 10mm spacer
Standard UK socket installation
2 year warranty
Aurora has been in business since 1999, although only recently moved into the IoT space
Dimensions: 146mm W x 86mm H x 10mm D (plus 19mm recess depth)
Installation
❗
This isn't a guide - Don't carry out electrical installations yourself. Always consult a qualified electrician!
The socket is a standard design for UK mains outlets. Your electrician (because I know you have one) won't have any problems removing the old socket, and connecting this one up. The terminals are clearly labelled, and the earth bar can be connected from either side.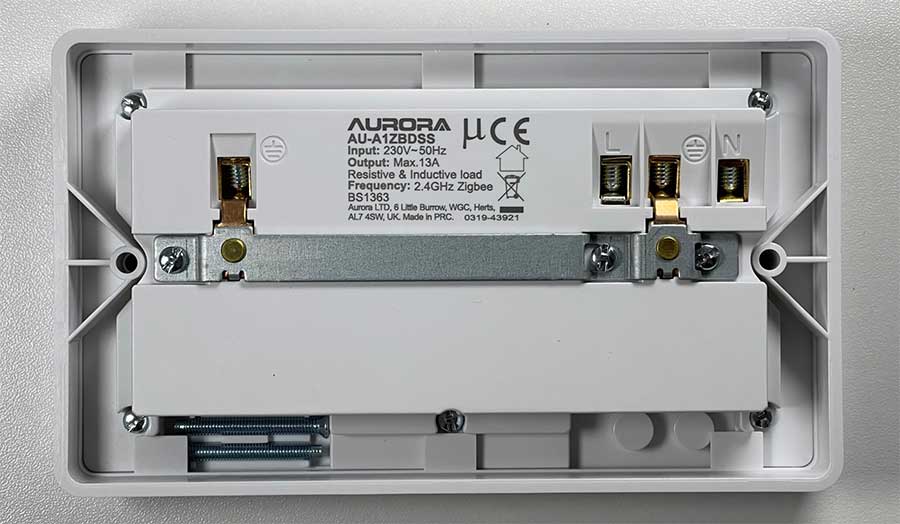 For this to fit flush, you'll need a 35mm backbox. It does also come with a 10mm spacer (see the images for both fits below) and it actually doesn't look too bad like this. It also comes with longer screws if using the spacer.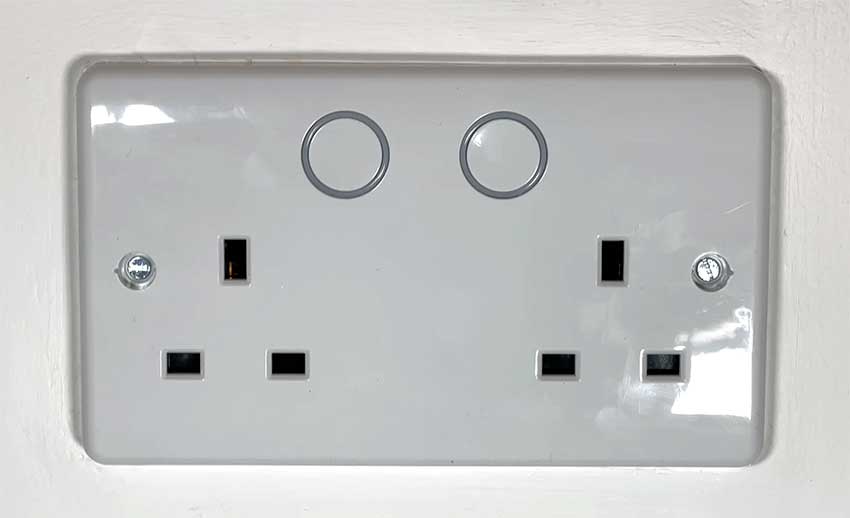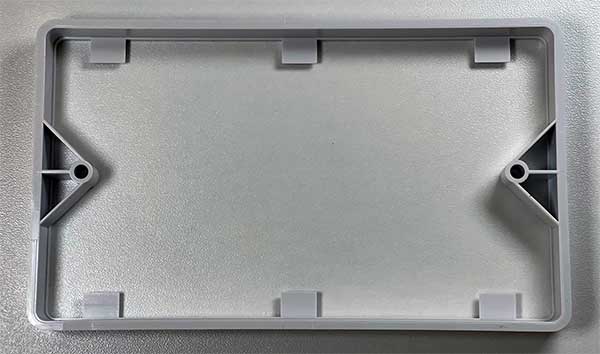 Pairing
Aurora sell a hub for the AOne socket, but if (like most people reading this) you already have a ZigBee dongle/hub, you'll be pleased to know the third party support is good.
Once your electrician has finished their cup of tea and gone home, you can pair the socket to your/a hub. After switching the circuit back on, the socket will automatically enter pairing mode, indicated by the flashing blue lights.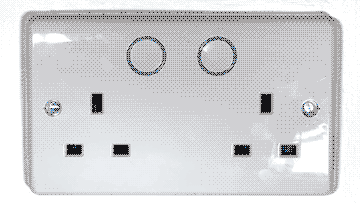 I initially tried with ZHA, and while control and power monitoring worked for both sockets, I couldn't control the LED indicator brightness.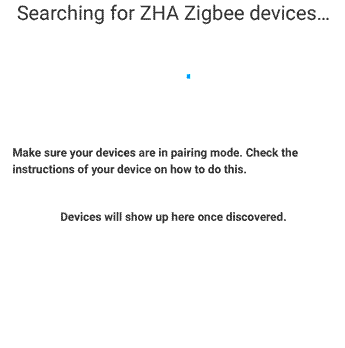 After a bit of research, I found that this functionality had been added to Zigbee2MQTT, so I promptly flashed my Zigbee hub, re-paired all of my devices and tried again, and voila! I was able to set the brightness of the LEDs (although only one brightness level for the whole unit, not individual levels for each socket).
ℹ️
AOne support clarified the requirement to not be able to completely dim the LED indicators on the socket:

"The BS1362 safety standard states that any socket that has the ability to be switched must be able to indicate its on or off status. so we can dim them low, but it has to be visible whether it is on or off.
As a legal requirement, the lowest you can have is Low Brightness (25%)."
Reliability & performance
The unit has been solid for the last couple of weeks, but I can't speak to its reliability past that (I'll update this review in future).
Control of the sockets seems snappy (as responsive as any other ZigBee device), and the power usage/reporting is a great feature!
The only downside to this is that it's a live usage value. This means you need something constantly tracking its usage. This is doable, and something like Home Assistant will record this information by default, but a system outage will mean you lose this information.
An example of a better way of tracking usage: the Fibaro Dimmer 2 (z-wave) units report the live usage, but they also have a continuous KWh tracker. Therefore, by recording this daily figure, you can work out the difference between the day before/after to get the total daily usage.
This is really my only gripe with the unit, and it's very minor, especially considering that there's nothing else on the market that provides this. What it does, it does well. The power wattage is reported back to the controller in just 2 or 3 seconds.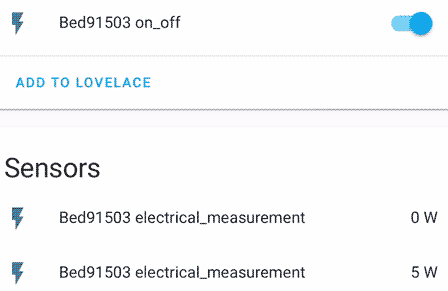 The LED brightness at the lowest legal level is bright enough to see but dim enough that it won't cause issues in a bedroom overnight. I could foresee creating automations to set the brightness to full during daylight hours, and reverting to 25% brightness overnight.
Roulette pricing
The price for this unit tends to fluctuate quite dramatically. The list price seems to be around £60-65 (including VAT), however, some retailers seem to periodically sell it at a much more reasonable £36. If you're looking to retrofit an entire house, I'd recommend waiting and buying in bulk! That said, at its most expensive, it's still cheaper than a LightwaveRF socket, but what isn't?
Conclusion
| Pros | Cons |
| --- | --- |
| Power monitoring | One colour/finish option |
| Goodbye bulky monitoring plugs | 35mm backbox (or requires a spacer) |
| Fits into existing Zigbee networks | Hit or miss pricing |
| Dimmable LEDs | No cumulative KWh tracking |
Price
£36 from Smart & Secure Centre (or £33.48 for quantities of 3+)
Rating
I'm going to ignore the price for this rating, given the fluctuation, it would be impossible to do otherwise.
The setup was very fast (for both ZHA and Zigbee2MQTT), and the device control has been without fault. Power usage is a particularly hot topic, so it's great to get a built-in socket with monitoring that will easily feed into the controller's power graphing, it's just a shame that there's no cumulative KWh tracker. Compatibility is very good, working with generic ZigBee controllers as well as being certified to work with SmartThings and AOne's own hub. Score: 4.5/5
---
What do you think about this, or the previously reviewed ClickSmart+ Zigbee sockets? It seems as though there's finally some choice in the UK for built-in sockets, but do the feature sets and prices marry up? Let me know in the comments, or over at @techbitsio.
---
---