The ClickSmart+ Zigbee Double Socket is a low cost smart socket for the UK market. Will it spark my curiosity, or will it fall short?
I can't believe it. A smart socket. A built-in smart socket. A UK built-in smart socket. Ok, I'm going to run out of emphasis here, but not to belabour the point: a product like this is very exciting, and long overdue! For the TL;DR, skip to the ↓Conclusion↓
ℹ️
Over the past year or so, a few more options have sprung up, including some Wi-Fi options, and from what I can see, only one other Zigbee option which I'll be reviewing soon: the AOne Smart Double Socket. Stay tuned for that one!
While there are plenty of retrofit single UK sockets (in both Z-Wave and Zigbee flavours), there has been no proper solution for the UK market for a long time. Except (and I wouldn't exactly call it a solution) for the ageing LightwaveRF 2 gang sockets which require a proprietary hub for their flavour of 433MHz, an £8 monthly (£80 annual) subscription for all but the basic features, and a staggering £79.95 (current retail price direct from Lightwave) per double socket (not including the hub).
I'd thought about buying Lightwave sockets in the past, but hadn't realised they'd now started charging a monthly fee until I saw this video from Paul Hibbert a few days ago:
But I digress. Before I get into it, what are we looking at here?
ClickSmart+ Smart Zigbee Socket
The ClickSmart+ Smart Socket from Scolmore is a 13 amp, 2 gang Zigbee UK socket (there is also a 1 gang version, and various colours/finishes). For the sake of clarify, I purchased this myself.
The features list is relatively short, but, you know, it's a plug socket: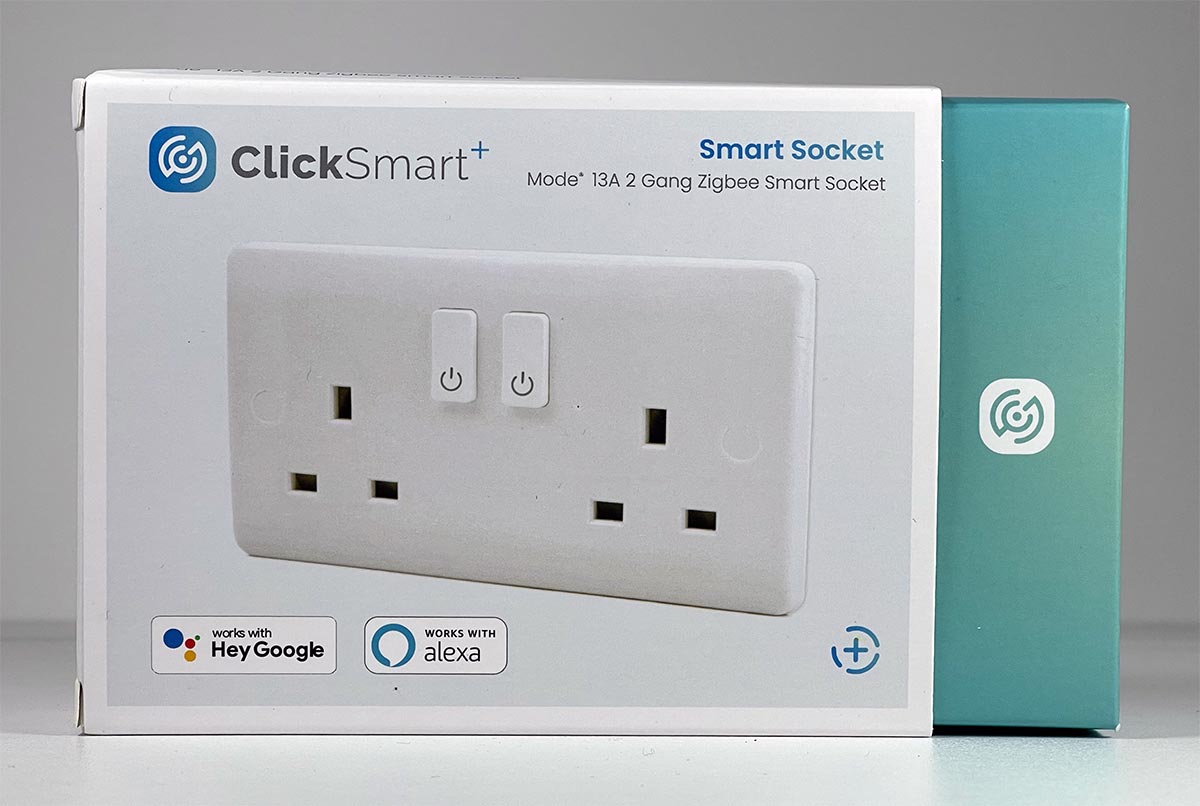 2 gang 13A (3KW load) rated UK smart socket
Independent control of both sockets via Zigbee
Power buttons with LED indicator
Generic Zigbee gateway or ClickSmart+ Hub
Power 'locking'*
Reputable manufacturer - Scolmore products (namely their non-smart 'Click' range) are stocked by most trade suppliers. Unbeknownst to me, the socket I removed to make way for the smart socket was also a Scolmore Click product
UK standards compliant - *deep breath*: BS 1363-2: 2016 + A1:2018, BS EN 61000-6-1:2016, BS EN 61000-6-3:2006/+A1:2010, BS EN 60669-2-1:2002 + A1:2008 in conjunction with BS EN 60669-1:1998 + A1:1999 + A2:2006
Low-profile design - requires only a 25mm deep backbox
Standard installation
3 year warranty
Low cost
For the sake of completeness, the dimensions are: 146mm W x 86mm H x 9.5mm D (very much double-socket-sized).
*locking the power on or off seems to be a feature in the ClickSmart+ app/Hub. I couldn't get this feature to work with my Sonoff Zigbee Bridge.
Installation
❗
This isn't a guide - I'm not recommending that you start ripping out mains-powered accessories. Always consult a qualified electrician!
The physical installation of this was very straightforward. Turn the breaker off, test that you switched off the correct breaker... Unscrew the old socket plate.
As the socket I removed was also a Click product, the design of the old and new devices is almost identical (the smart one being a bit thicker). They also have the same grub screws to pinch the wires into place.
Wiring this kind of device, I'd highly recommend only loosening the screws one at a time. Put the wires in, tighten the screw, then loosen the next. This way you can't push the wrong wires into the wrong terminal, which is more likely as the terminals are likely to be facing away from you as you tighen the screw.
Also: double check the markings on the device. The earth pole was outward of the live and neutral poles on the removed socket, but the new one had them inward. That would've been a painful assumption.
All wires back in the right place. Grub screws tightened, check the wires are pinched tight. Now push the faceplate in... and yep, no problem with the clearance. Even in a 35mm backbox, I thought that the length of wires might cause an issue, but it was very easy.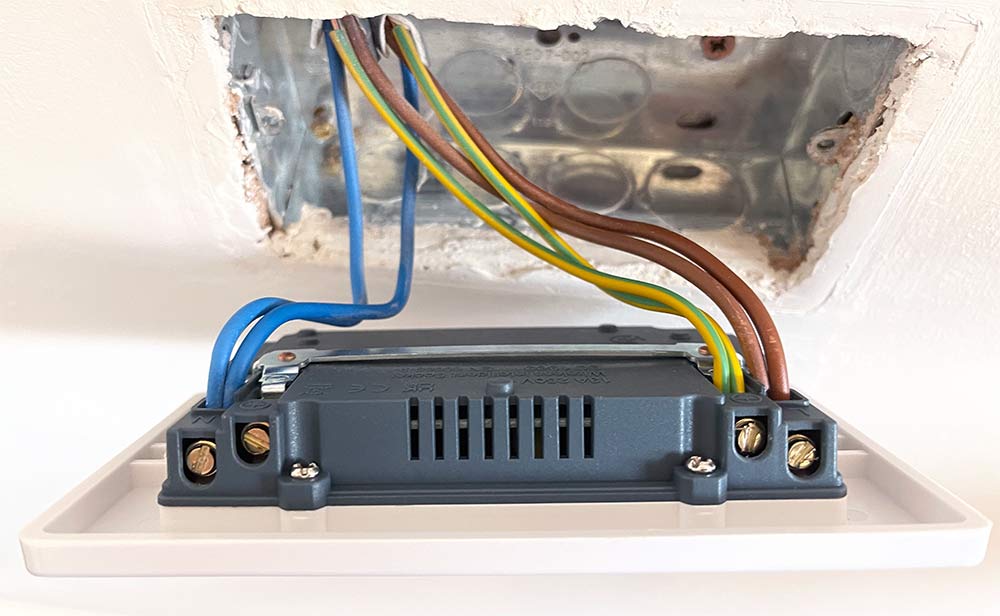 Faceplate screws installed, and pushed the plastic finishing caps on to hide the screws.
Switch the breaker back on, and... flashing orange pairing lights. Success!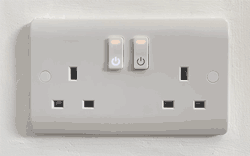 Bring your own hub
When I ordered this, I read the 'ClickSmart+ Hub is required' bit, and promptly ignored it, in the hope that it wouldn't turn out to be a locked down Zigbee implementation.
The hub I'm testing with is a Sonoff Zigbee Bridge with Tasmota firmware running ZHA (through to Home Assistant via socket connection).
I clicked 'Add Device' in the ZHA Home Assistant integration, and it was near-instantly detected and added. I couldn't take screenshots fast enough (I had to repeated the process to grab the video below).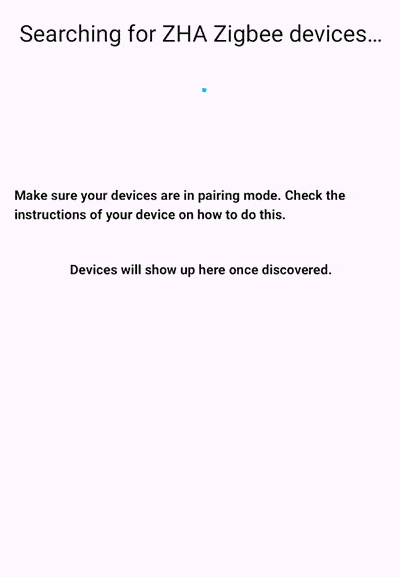 The only oddity after adding it that the first entity (left socket) will show up as whatever you named it when adding it, with a sensible id like switch.clicksmart_socket_on_off, but the right socket ended up as switch.tyzb01_hlla45kx_ts011f_fgbcafde_on_off_2. However, I could control both straight away, and it successfully detected the device as a Mains powered Zigbee unit, and a Router type.
Zigbee options
Poking through the clusters in Home Assistant, you can see the available commands for the left and right sockets. Built in toggle is nice, and on_with_timed_off could also be useful.
Looking through all of  the settings, I couldn't see where locking the power on or off could be set. This could be some obscure variable, and I've reached out to Click/Scolmore to find out.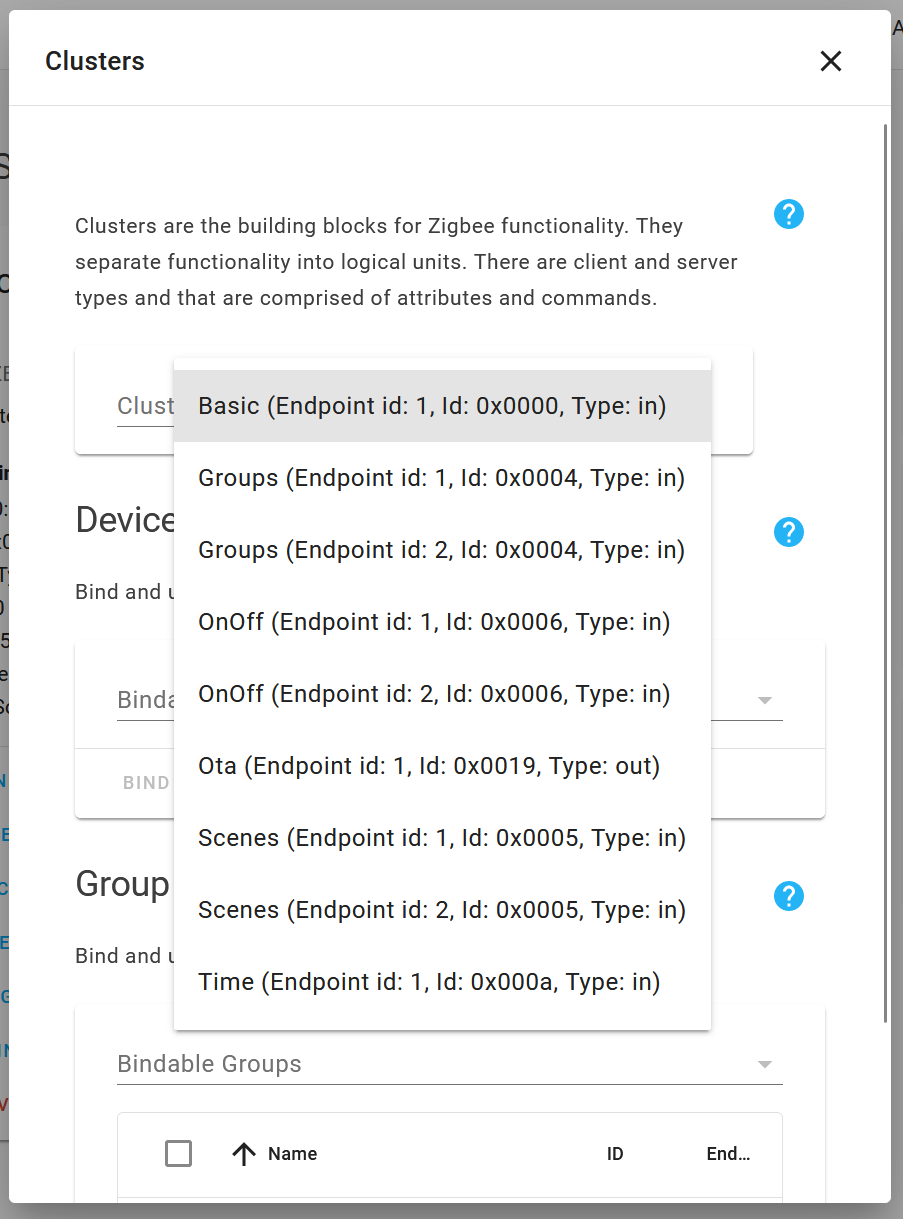 The other thing that would've been nice to find here would be settings for the power on/off indicator LEDs. While they don't seem too bright during the day, it would be nice to be able to lower the brightness at night. A different colour (red) would've been better to limit the impact at night.
An event for when the on/off buttons themselves were pressed as opposed to powering on/off via Zigbee would've been useful.
No power monitoring
When I ordered this, I assumed that power monitoring wasn't a feature, but hoped that it was just not advertised as such. Alas, no. The Scolmore support team confirmed as much, and looking at the compact form of the unit, I almost feel bad for hoping for more.
While power monitoring in a product like this would cause them to fly off the shelves (especially with the current cost of energy in the UK), given that a standalone single retrofit zigbee/Z-Wave plug can cost the same or more than the ClickSmart+ as it stands now, it's probably too much to hope for (for now).
Other Zigbee hubs
For the sake of completeness, I dug out the two other Zigbee hubs I have, and tried connecting the ClickSmart+.
I put the socket back into pairing mode (hold either power button for about 10 seconds, until the orange light starts flashing), and tried connecting to the Philips Hue gateway. The Hue app sat there for a minute, before saying it couldn't find anything. This isn't really a conclusive test, because Hue will often say the same things for Hue bulbs. I tried a second time, and then gave up.
The Ikea Tradfri hub teased me with a firmware update before it would do anything. I tried adding a few of the device types, but unsurprisingly, it didn't work.
Both hubs went back into a drawer.
Anecdotally, it seems some people have had success using the Samsung SmartThings hub.
Reliability & performance
I can't speak for long-term reliability just yet. I have some automations running to turn devices on and off, with the powered device recording that information. I'll update this with any issues faced, or a thumbs up if it works solidly. Based on the short period I've had it installed, it hasn't missed a switch.
The 3 year warranty backed by a 30+ year old electrical manufacturer should also help ease any concerns regarding longevity of the sockets.
On the performance side, it seems great. It switches instantly (worth noting that it's a small Zigbee network), and the relay click isn't too loud.
A side benefit is the few battery powered devices I have now have another mains device to mesh with, which should improve the Zigbee network.
A very reasonable price
I've saved my favourite feature until last: Pricing.
I paid £28.50 for this 2-gang unit. Given that a single retrofit socket from a good manufacturer can cost more than this, and if you're talking Z-Wave, even more than that, this seems like fantastic value.
Even more so given that this is a manufacturer who primarily produces household electrical fixtures, so this is as well built and safe of a device as you could hope for (and given some of the cheaper Wi-Fi smart devices, makes a nice change).
Conclusion
| Pros | Cons |
| --- | --- |
| Low Price - £28.50 as reviewed | Limited Zigbee controls/options |
| No need for ugly retrofit plugs | White LEDs seem too bright |
| Fits into existing Zigbee networks | No power monitoring |
| Long warranty, trusted manufacturer | |
Price
£21.23 from Electrical2Go - They also do discounts for bulk. If you were buying 10 or more, it would be £20.17 each. You could fit out your whole flat/house for the cost of 2-3 LightwaveRFs!
Rating
The price is a huge factor here. Given the cost, the simple installation and easy setup, the ClickSmart+ Smart Socket can easily be forgiven for a lack of depth. While some more Zigbee events would be great for detecting when the physical buttons are pressed, and perhaps a newer version down the line with power monitoring would be great (ClickSmart++?), let's not forget that this is a niche market with almost no other options. Score: 4/5
---
I'd love to hear what you think about this device in the comments. I'm not hugely familiar with the intricacies of Zigbee, so if there's something I've missed, let me know.
---
---